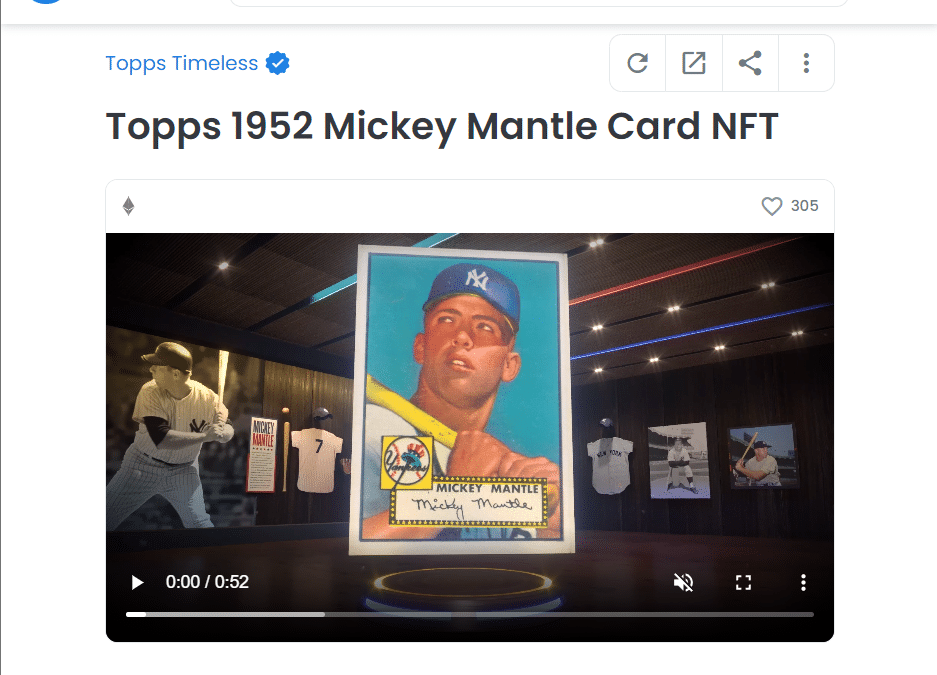 Mickey Mantle NFT Sells for $471K at Auction
Gianmarco Castronovo, March 7, 2022
0
1 min

read
An NFT of Mickey Mantle's coveted 1952 baseball card just sold for nearly half a million dollars in an auction on OpenSea. But does the NFT come with the card itself? Card collector Gianmarco Castronovo explains:
First and foremost, no: the Topps 1952 Mickey Mantle Card NFT does not come with the baseball card. Although this collectible is officially licensed by MLB as part of the Topps Timeless Series, owning the NFT means just that: you own the NFT and nothing more. However, owning this collectible also entitles you to a 30-minute interview with Mickey Mantle's sons, Danny and David Mantle. Having the chance to ask the Mantle brothers anything about "Mick" is certainly a priceless experience! But is it really worth the price tag?
As NFTs and cryptocurrency go, the continuing value of this collectible is uncertain.  In the Topps Timeless auction, "The Mick" sold for 175 ETH, which is as concrete of a value as we can grasp on it at the moment.  Currently, 1 ETH is worth $2,489.85;  the lowest value it has held in about 2 months.  Ethereum has achieved great highs and lows, from $11.95 to $4,644.43.  So only time will tell what kind of value this virtual baseball card will maintain. Gianmarco looks forward to diving into OpenSea to uncover what other baseball collectibles can be scored as NFTs — stay tuned!
Related posts