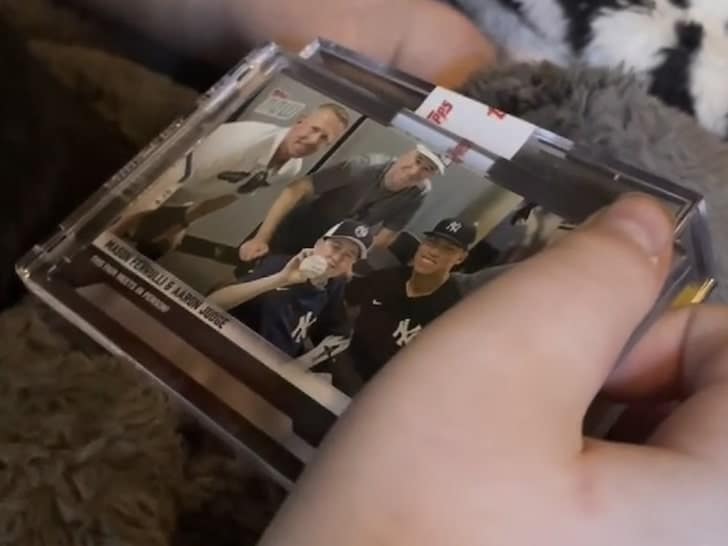 A young baseball fan and cancer survivor by the name of Mason Ferrulli was surprised this week with a special surprise from his favorite MLB player (and now friend!), Aaron Judge. Baseball fan, Gianmarco Castronovo shares the heartwarming story:
Mason Ferrulli is just like any young baseball fan.  He follows his team, the Yankees, religiously each season.  He collects the latest cards and gets that heartwarming, exciting boost of adrenaline when he pulls a special rarity for his baseball card collection.  But besides his baseball fanaticism, there's another part of Mason's life that's important: the fact that he's a cancer survivor.  This makes his love of baseball all the more important, as the sport gives him a way to escape in between treatments.
Last year, Mason and his father posted a video of the young fan pulling a rare 1 of 1 Aaron Judge card out of a pack.  The heartwarming video, and Mason's story, spoke to superstar Aaron Judge, who reached out to the boy and his family.  Coincidentally, Aaron and Mason nearly share a hometown!  So when the Yankees came out to play near where Mason lives, Aaron set up a way to meet the boy.  They snapped a photo together and the rest is history!  The two now have a special bond, with Aaron checking in on Mason now and then. 
This week, Aaron Judge sent Mason Ferrulli a special box of baseball cards — all thanks to the player's connections at Topps. Inside, Mason found something truly special: a rare card featuring Mason and Aaron, side by side the day that they met! Aaron said to Mason, via Facetime, that he'll need a Ferrulli autograph on one of those cards. Good on you, Aaron for bringing this beautiful light to Mason's life!
Related posts